Introduction
ART CART: Saving the Legacy is a replicable, interdisciplinary, intergenerational, educational experience that connects aging professional artists with teams of graduate and upper-level undergraduate students to undertake the preparation and preservation of their creative work, and to help shape the future of our American cultural legacy. The project grew out of research conducted by Joan Jeffri, founder and director of the Research Center for Arts and Culture (RCAC), and sociologist Douglas Heckathorn at Cornell University. Their work, published as Above Ground: Information on Artists III: Special Focus New York City Aging Artists (Jeffri 2007), revealed that in many respects artists are a model for society, maintaining strong social networks and an astonishing resilience as they age. Yet 61% of professional visual artists age 62 and up have made no preparation for their work after their death, 95% have not archived their work, 97% have no estate plan, three out of every four artists have no will, and one in five has no documentation of their work at all (Jeffri 2007).
While there are several available artwork documentation projects, ART CART is unique as an experiential learning project with the intersection of four areas: art, education, health, and aging. Piloted at Columbia University in 2010, with six professional visual artists and twelve graduate students in art education, art history, arts administration, occupational therapy, public health, and social work, ART CART was repeated in the New York City and Washington, DC metro areas in 2012–2013 with 10 professional artists age 63–100 and 20 fellows in each location in a partnership with seven universities, a major museum, and a senior services center. University faculty acted as teachers and student advisors, and recommended student fellows to participate in the project in interdisciplinary teams (one from the arts, one from health or aging) with an older artist and the artist's working partner. The Phillips Collection gave a practical lecture on "What Museums Look for in Artists' Documentation," which was videoconferenced from Washington to New York artists and student fellows. Iona Senior Services served as the project base in Washington, DC. The Research Center for Arts and Culture, founded in 1985 at Columbia University, relocated to the National Center for Creative Aging in Washington, DC in 2011, in order to create a national platform for the project.
After the 2010 pilot, informational sessions and in-person interviews for the two-semester project were held in order to identify 20 fellows from universities, colleges, and art schools in each metropolitan area. Artists were solicited through foundation lists, websites, e-newsletters, the pilot artists, informational sessions, and word of mouth. The written application required the signature of someone selected by the artist (a studio partner, significant other, heir, spouse, or studio assistant) who would agree to learn the same basics as the other team members and who would be available to assist the artist after the project ended.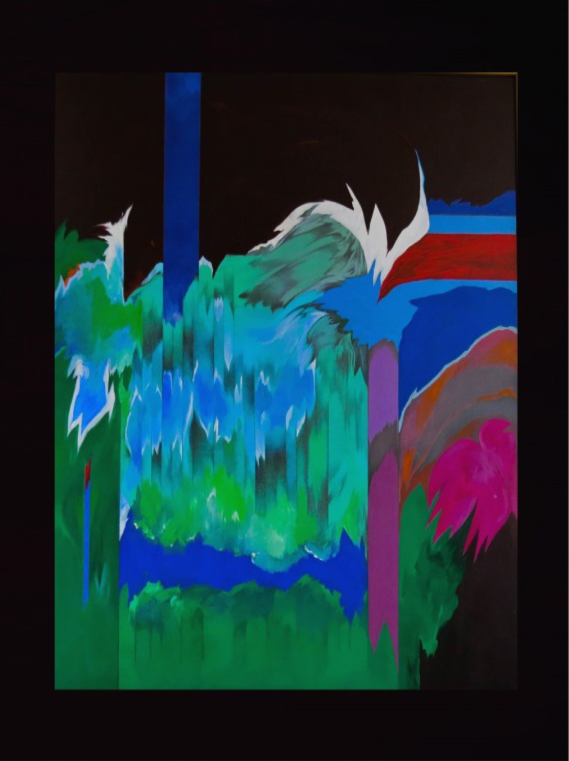 Garden, Wave, and Waterfall Acrylic and graphite on canvas, 60" x 60".
by 2012–2013 ART CART artist Sonia Gechtoff, 2001
Summary of Goals
ART CART is an education in hope. —DC ART CART Artist 1
ART CART has three sets of intersecting goals. For artists, they include:
to organize and document their art;
to participate in a life review;
to engage in in-depth discussions of their work and artistic achievements;
to act as mentors to their interdisciplinary team of fellows;
to appreciate the importance of the occupation of art to positive aging; and
to share their ART CART experiences through public forums and with peers and younger artists.
Attesting to the program's value, one NYC ART CART artist said, "I never honored my work until ART CART."
The goals for the fellows include:
to assess cognitive, psychosocial, physical, and environmental challenges that artists expressed or manifested while organizing their studios, creating their art, documenting their art electronically, and reviewing facets of their life story;
to achieve individually tailored objectives for each older artist, including optimizing older adult artists' function/adaptation in the studio;
to apply motivational skills to promote artists' desire to organize artwork/studio, practice computer skills to document artwork, apply strategies to increase ease in creating art, and develop habits to continue documentation after ART CART ends;
to describe the developmental tasks of older adults that contribute to or impede "successful" aging;
to apply life review, interdisciplinary, and oral history techniques during the documentation process; and
to share insights related to the artists, and relate findings to the larger society of older adults.
An occupational therapy student from New York University attested to achieving the goals:
As a team, we have created an exceptional dynamic. [The artist I partnered with] is an inspiration to me. She is a shining example of "productive aging" for the simple reason she does not consider her age when she makes her art—she follows her heart and in doing so creates magnificent works to share with the world. It's a message I hope to pass on to my future clients—to find the thing that you love to do and work hard to keep doing it.
Goals for the educational partners include:
to develop an interdisciplinary curriculum for arts education, arts administration, art history, studio art, social work, occupational therapy, public health, and related disciplines in order to include a sustained hands-on experience for students with older artists;
to develop documentation of a new curriculum that becomes a "standard" for university studio art degrees and potentially other graduate degree programs (a long-term goal);
to apply an interdisciplinary, intergenerational learning experience with policy and program implications for higher education;
to expand students' experiences to include a fieldwork component in the context of a yearlong course that enhances skills requisite for their professional development;
to evaluate outcomes for all participants;
to develop socially responsible connections for the institution of higher learning and its faculty and students with the community of older adult artists;
to develop a replicable prototype for several universities to be taken to a national stage; and
to generalize the principles related to older adult artists to the larger society of older adult populations and to older professionals, while recognizing the need to individualize attitudes and beliefs in order to avoid negative or positive stereotyping.
A participating NYU faculty member commented, "This is an excellent project. I loved the fellows, I loved teaching, I'm inspired by your passion for the work. . . . I hope lots of funding comes your way for future iterations."
Learning Environment
The fall semester included a 15-week course with both live and online lectures, readings, assignments, and discussions where students focused on the findings from the Above Ground research, and on issues of aging, team-building, documentation skills, and the artists' life reviews. Artists presented a selection of their work to students and faculty early in the term. The students were organized in interdisciplinary teams from diverse racial and socioeconomic backgrounds. Each team consisted of two students, one artist, and the artist's working partner. Students watched Andrew Jenks Room 335, a film about a 19-year-old who lost his grandfather to Alzheimer's, moved into a nursing home, and forged singular relationships with a number of the residents. What followed was a discussion of elder abuse, mortality, cultural differences, and the caretaking expectations of the students' families. A lecture on learning through the lifespan and another on creativity from early childhood contextualized information about aging, chronic illness, stereotypes, and ageism and helped the students think about working in the very personal space of the artists' studios. Experts from the Phillips Collection discussed what museums look for in the documentation of artists' work and technical staff taught the basics of the documentation software. Each student team conducted an environmental safety assessment of their artist's studio and created a plan with the artist and his or her working partner about what portion of work to document in the spring term. Finally, the students conducted their own assessment of the cognitive, emotional, and physical challenges they identified in their artist, and shared this with the class and faculty who offered suggestions for dealing with obstacles and opportunities.
In the spring, the interdisciplinary student team went to the artists' studio for four hours each of fifteen weeks. Together, the students, artists, and artists' working partners planned, problem-solved, made decisions, evaluated team-related tasks, and exchanged leadership roles and functions to assure progress, learning from and teaching each other. There was a delicate balance to achieve in team relationships, especially since common stereotypes depict older people as bringing "wisdom" to younger ones, and younger people bringing "technology" to older people. We needed to address the primary goals of the artists in the project—to document their work and facilitate their learning how to do it themselves. Thus, we were leveling the playing field, since every member of the team had to participate to make the project successful. While technology (documenting artists' work) was the catalyst, the project evidenced a rich educational experience for every participant. We were also cognizant of the need for students to achieve goals related to their primary disciplines and to acknowledge that they were also delivering a service to the artists that is outside the normal classroom setting.
Each week of documentation, the team planned an agenda and reviewed and evaluated their objectives for the session. Andragogy—methods to teach adults—guided the instruction of the artists, their working partners, and the fellows. The faculty and fellows brainstormed and assisted each other with the challenges that fellows, artists, and artists' working partners experienced in achieving mutually-agreed upon objectives. All team members refined the documentation process and rotated tasks, from organizing artwork to photographing images to inputting data into a database.
Midsemester, the students recorded oral histories with the artists and worked with them to decide how best to continue the documentation at semester's end. As a psychology student from Howard University described:
[The artist] and I shared a one-on-one learning experience that I could never have gotten in any classroom. Rich African traditions of the Dogon people, the Akan, and Yoruba people, I got the chance to see up close and personal through his work and through his words. Growing up in a world where because of a color you can be seen as inferior, these weekly visits were greatly needed reminders that I am the descendant of greatness.
In September 2013, two culminating exhibitions of some of the documented work were held at the Corcoran Gallery in Washington, DC and at New York University's Stovall Gallery. These included a composite of the oral histories at a listening station, a wall legend about the project, and the launch of a short documentary about the project (www.creativeaging.org/artcart).
Some aspects of the project continued. Two students developed a program for a senior center in Harlem with economically disadvantaged seniors. City University of New York's Elder Law Clinic offered free wills and estate plans to ART CART artists when they completed their work with us. Columbia Law School's Digital Lawyering Clinic developed a website for estate planning for artists that we launched for all artists through our website.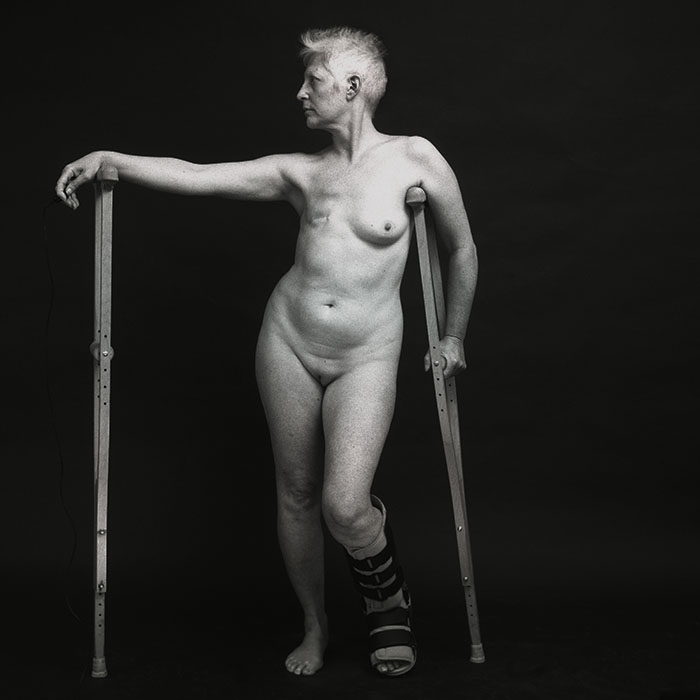 Amazon
by 2012–2013 ART CART artist Niki Berg.Copyright 1997
Documentation Process
While digitizing is considered the professional method to record artwork, the technical skills required to master the process are complex. Moreover, many artists do not sign or date their work (a prerequisite for documentation) or have their studios organized. The student fellows helped with these tasks and also taught the artists the software. In the best cases, each team member learned how to accomplish all documentation-related tasks. This required gathering of basic data—title, measurements, medium, creation year—and photographing the artist's work or scanning slides to include an identifying photo of each; inputting information about exhibitions, publications, reviews, and related materials; and creating key words to identify the work, so the database could be useful as a relational tool. Artists sometimes lacked up-to-date equipment and needed to borrow or buy computers (some were donated or made available through participating universities). A technical coordinator fielded questions throughout the project, and software was selected that is used by many major museums in the US and internationally. It was installed free and permanently on the artists' computers, with the capacity for 1,000 records. At the project's end, all documented records and oral histories were archived in Columbia University's open source digital archive, Academic Commons, as the ART CART Collection; records of present and past artists are updated there every several years.
Health and Aging, Research and Interventions
In 2012–2013, an occupational therapy clinician conducted eight assessments and measurements on the ten ART CART artists, which graduate students conducted on a comparison group of ten artists who had not been part of ART CART. The assessments included pretests, immediate posttests, and six-month posttests concerning social inclusion/isolation, morale/depression, productivity/activity, and safe functioning in the studio. Three of the measurements had been used by Gene Cohen, well-known for his study of creativity and aging, which showed how older people benefit from participating in (not creating) the arts (Cohen et al 2006). In addition, the clinician returned to the studios of three New York City artists and made suggestions regarding the safety of the studio environment, fatigue, posture, and other health and aging-related outcomes. The data from these assessments, measurements, and interventions were released in October 2014 (Jeffri, Rizzo, and Miller 2014). Our plan is to continue research parallel to ART CART in future years, using a comparison group from the general population. Our most important findings were that professional visual artists are very high functioning, with less depression and higher self-esteem than general population estimates. These findings must be viewed with caution, since the art world is very ageist and it is possible that artists self-reported as fitter than they are; additionally, the sample was very small. Six students in social work and occupational therapy participated in the research project; one is now doing doctoral work in creativity and aging.
Older Artists
What about the component of ART CART that directly relates to art and to older artists? From our original research we found that artists don't retire or, as one artist said in Above Ground, "I'll retire when I'm in my coffin." And career is not a word that many artists born before 1940 (the mean and median age in Above Ground was 73) considered. So, while these artists, like many others, have had multiple jobs throughout their lives, they have not necessarily thought of these as supporting their careers as artists. They simply were artists. It is important when creating discussions and programs to help artists with their careers that we include input from those artists who have spent a lifetime making art, who might have some lessons of their own to share regarding surviving, engagement, and art-making.
One of our working hypotheses for the Above Ground study was that older artists are models for society. Resilient, tenacious, and not without adversity, but with a method that puts that adversity into their work, they embody what the literature says baby boomers seek —the engaged life, a life of meaning and meaningful work. An arts management student, from American University noted:
As a result of ART CART, I now feel more connected as a person and as a citizen of this world. I think differently about visual representation and expression, relationships with my family and friends, and about living in Washington, DC. Because we are all at different moments in our respective lives, our conversations around the meaning of [our artist's] legacy as an artist were that much richer and more comprehensive. This was a transformative experience, both educationally and personally, and one that I will cherish and reflect on for the rest of my own life.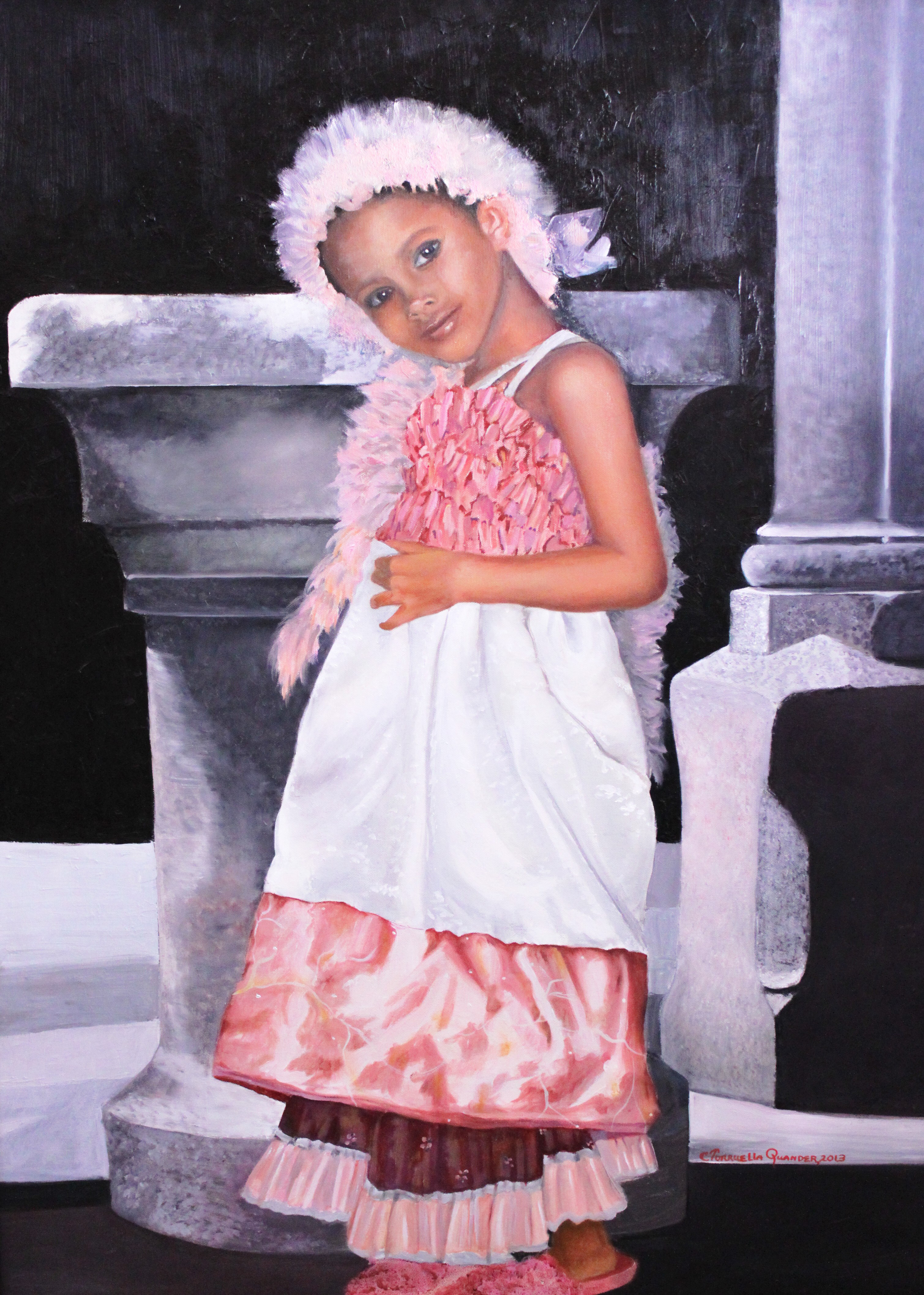 Brown Girl Playing Dress Up. Oil on canvas, 40" x 30".
by 2012–2013 ART CART artist Carmen Torruella-Quander, 2013
In addition to what we can quantify through our current research, it was clear that one of the great benefits of ART CART for the artists was what Robert Butler called a "life review," brought about by the preparation for documentation and the oral histories (Butler 1975). Another benefit was the artists' deep satisfaction that their work was being taken seriously, first by the project, and then by the student fellows, many of whom did not have a grounding in the arts. Finally, for these artists, all of whom are still creating art, the safety and prestige of housing their documentation in Columbia University's Academic Commons provides great satisfaction.
For those fellows who are in the arts, it became clear that vital works of art, and the creative histories that comprise an important component of American cultural heritage, are imperiled by the lack of a functional, sustainable model for documentation and preservation. While art students may ponder their first exhibition or sale, most graduate-level curriculum lacks instruction in long-term concerns, such as the proper preservation of artwork. So our fellows who were also artists learned to document their work at age 23, not age 73.
Evaluation
During the course of the pilot we began to create materials for replication, including a historical narrative with lessons learned, so in a sense, we were evaluating throughout the project. We also asked the artists, their working partners, the fellows, and the faculty for an outside evaluator, which helped us improve the curriculum, engage participants more fully, and think about replication. In her recent evaluation, Dr. Jane Bear-Lehman of New York University, wrote:
The artists', the artists' working partners', and the fellows' testimonies speak to how strongly ART CART has surpassed their expectations and reasons for participating in the program; and, how it has made a permanent and lasting impression. The artists attest to the importance of documentation of their art and are very appreciative to the ART CART program in its success in teaching them "something so hard": how to document. "I have been producing art for much of my life . . . however, through ART CART, I have developed a greater sense of my own personal artistic worth. . . . [B]ecause of ART CART, the legacy of my work will be documented in a professional manner. . . . [I]t has become more important at my age to document because I see the importance of doing it now—younger, it was not thought about." (Bear-Lehman 2013)
The Future
A sustainable model is being created for ART CART to be replicated in 2015, again in New York City and Washington, DC, and in additional cities every two years. While each location will customize ART CART according to its resources and the interests of its students, faculty, and community, there are five principles adhered to in each location: documentation of older artists' work; experiential learning; a project that is intergenerational, interdisciplinary, and interprofessional; collaborative learning; and participation in a parallel research project.
Major challenges include scaling the project up, especially to include communication among students, faculty, artists, and their working partners across participating locations; partnering with a professional technology consultant; building a national network; and raising funds. In addition to raising money for local costs, a hub university in each ART CART site will pay a fee to be included in the national network, and receive from the Research Center for Arts and Culture: technical and administrative expertise, curriculum materials, legal forms, student advisement, participation in the national network, marketing, branding, and a trainer to help customize the project. The goal is to anchor the project in a university with a university-community partnership.
Notes
1 All quotations, unless otherwise noted, are from ART CART artists, fellows, and faculty who participated in ART CART in New York City or Washington, DC in 2012–2013. They are not identified by name to protect their privacy.
Work Cited
Bear-Lehman, Jane. 2013. Program Evaluation of 2012–2013 ART CART: SAVING THE LEGACY. Unpublished.
Butler, Robert N. 1975. Why Survive? Being Old in America. Baltimore, MD: The Johns Hopkins University Press.
Cohen, Gene D., Susan Perlstein, Jeff Chapline, Jeanne Kelly, Kimberly M. Firth, and Samuel Simmens. 2006. "The Impact of Professionally Conducted Cultural Programs on the Physical Health, Mental Health, and Social Functioning of Older Adults." The Gerontologist, 46 (6): 726–734.
Jeffri, Joan. 2007. Above Ground: Information on Artists III: Special Focus New York City Aging Artists. New York: Teachers College Columbia University/Research Center for Arts and Culture. Accessed May 28, 2013. (Research Center for Arts & Culture)
Jeffri, Joan, Victoria M. Rizzo, and Patricia A. Miller. 2014. ART CART: SAVING THE LEGACY: A Feasibility Study for a National Model of Health Promotion and Wellness among Older Adults. Accessed November 2, 2014. (Research: Art Works Grants Final Papers- NEA)